This latest award refinforces customer feedback and is the second major industry award given to WALLIX AdminBastion Suite in 2016.
What's so different about the Cyber Security Awards ?
I'm not sure about you, but when I attend these kinds of events you can never assume victory. Attending an event at the Chelsea Harbour Hotel is sometimes enough, an ideal networking opportunity, great food and a fantastic overall evening.
I'm not sure about you, but I never go with the expectation that it's in the bag but always have the hope that this evening, it could be you!!!
Now in its third year, the Cyber Security Awards is an independent event that has no affiliation to any magazines, organisations, or products. As a result, the judges are able to make their decisions based on merit alone.
The Cyber Security Awards team reviews the industry, looking for the best possible Cyber Security applicants. They encourage all those, who are committed to progressing the industry, to apply every year. Judges come from varied backgrounds, and are some of the most well regarded and respected individuals working in the cybersecurity industry today.
And the Winner is... WALLIX
When it was time for our category nomination we were all on the edges of our posh chairs anticipating and then, "the winner is WALLX" echoed over the PA system. For a micro second the room went silent before an explosion of applause, cheers and congratulations from around the room including everyone on our table.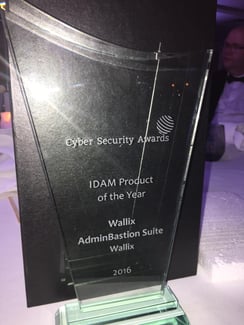 Cyber Security Awards honours were presented in a number of categories including Penetration tester of the year, Consulting practice of the year and Banking or Financial Services team of the year.
Accepting the award Bruce Jubb, Regional Director for UK. Ireland & Nordics said, "as the threat landscape continues to shift on a daily basis, our focus on being the best at managing privileged user accounts has again been recognised and supports feedback from our customers. It also reinforces the recognition from SC Magazine earlier this year." What a guy!!!
Commenting on the success, CEO, Jean-Noël de Galzain, explained, "this is a massive achievement for all of the WALLIX team and recognition of the vision we have for our AdminBastion Suite."